We've all heard of a Christmas detox – you know – the health drive and weight loss diet we all promise to embark on after the festive season, usually when we're festively-plump and hungover on January 1st.
We sign up to Dry January, rid the house of all the leftover Quality Street (goodbye toffee pennies festering in the bottom) and dust off that gym membership card that hasn't seen the light of day since around mid-October when it started getting darker earlier in the evening and we went into hibernation.
How many times in the build up to the festive season during November and December do you find yourself over-indulging far-too-often and by the time Christmas comes around, you're already in bad health and you've gained a fair amount of weight.
A lot of us often throw caution to the wind as we nibble our 20th mince pie of the season by November 30th or open that bottle of wine at 6pm on a Wednesday because – you know what, Christmas is coming, I'll start in the new year!
At The Slimming Clinic, we want you to enjoy the festive season guilt-free.
We want you to look and feel your best and to enjoy whatever it is you want to enjoy, but we also want to ensure you don't head into January full of remorse for letting yourself get carried away with your eating and drinking.
What if this year, you did things differently?
What if this year you took part in a Christmas PRE-tox.
Yep, you read that right, a pre-tox.
What is a pre-tox, we hear you ask!
Well, essentially it is a word we've made up at The Slimming Clinic and we see it as the opposite of a detox.
We're not talking about drinking special tea, or adding turmeric to everything and eating just raw vegetables.
Simply put, a pre-tox is looking after your health now, in the anticipation that you probably won't be saintly with it over Christmas.
The Slimming Clinic are proposing this year, you look after your health as much as possible during November and December and go into January feeling smug that you haven't gained weight or jeopardised your health just for some more mince pies or a couple more glasses of wine.
Treat each day, a meal at a time
At the time of publishing (mid-November) we have about 5 weeks until Christmas. That's only 35-or-so days to go.
If you eat 3 meals and 2 snacks a day, that's about 105 meals and 70 snacks between now and Christmas day.
How many of those meals and snacks need to be unhealthy? 3? 5? 10? Depending on how focussed and serious you are about your health, it could be NONE!
We're not saying you shouldn't indulge at all and be rigid with your weight loss diet, but perhaps look at your days and weeks between now and Christmas, and plan in where you think you can't avoid eating unhealthily, and the rest of the time, you can make yourself, or buy, healthier meals!
From there, you'll be able to see where you can be good and when you can say no to the festive snacks and feasts and stick with your weight loss diet and exercise.
Use the quieter times at the gym
The gym is typically quieter in November and December, as people lose their motivation for their exercise for weight loss and turn to the temptations of the season.
So YOU should use this time to try new classes when they're not as busy,  or get on the stairmaster that is ALWAYS in use, or try a session with a PT and get a really good workout!
Or, if you are finding that you're struggling with workout motivation, try just getting in some steps at lunchtime on a little walk. It doesn't have to be a structured workout.
But even getting out in the winter sunshine and topping up your vitamin D when possible can help spark your motivation again.
Show off your willpower!
Christmas and December are incredibly hard to remain motivated in when it comes to weight loss diet and exercise, but, if you've been on a weight loss journey for a little while, you might already have more willpower than you even knew you had!
It could be that last year, you really over-indulged and treated yourself, but this year, you're a bit more refined at the buffet table, or you've made a healthier choice when eating out or you got in the car on that drizzly November night and still went to your gym class, even though you really didn't actually want to.
That is your willpower and it is helping your rewire your brain to make better, healthier decisions that become healthy habits!
So when you find yourself saying no to second servings, or pulling on your workout clothes when before you might not have done, you can do a little festive jig with yourself and feel amazing for flexing your willpower muscle and strengthening it!
Get extra support!
We know the temptation to eat everything in sight can be overwhelming when the shops are stacked with festive treats, but with the right support, you can and will be able to stick to your pre-tox and weight loss diet and be healthier and slimmer for Christmas.
You can use this brilliant FREE pre-tox weight loss tracker we have put together, to see when you can't avoid going off track, and celebrate when you've been really good with your weight loss!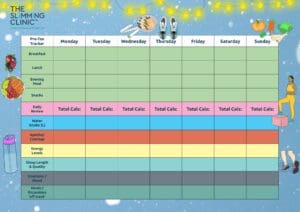 Save and Slim!
….PLUS FREE Supportive Supplements so you can take a 2 week break from the medication over Christmas and still be supported in your weight loss.
So why wouldn't you try a pre-tox this year?
Give us a call and see how our fantastic weight loss doctors can support your weight loss in the build up to Christmas!