Doctor Led Medical Slimming
34 successful years helping thousands of people lose weight.
START YOUR JOURNEY
BOOK YOUR FREE 1-TO-1 WEIGHT LOSS CONSULTATION
Medical slimming treatment includes a doctor assessment, prescription medication, a dieting plan and a weekly support programme.
22 Slimming Clinics Nationwide
The Slimming Clinic is celebrating 34 years of helping our patients achieve slimming success. With 22 clinics across the UK, The Slimming Clinic offers doctor led personal weight loss in England, Scotland and Wales.
Doctor Led Personal Weight Loss
From your first visit you will be appointed your own personal doctor who will discuss your weight concerns and design a personalised weight loss programme to suit your lifestyle. At The Slimming Clinic we offer a variety of slimming treatments including appetite suppressants in tablet and injectable form, fat blockers and natural slimming aids.
During your one-to-one appointment with your personal doctor you will decided on the slimming treatment most suitable for you. You will meet your doctor on a weekly basis for a consultation weigh-ins and constant support.
In a survey of 947 patients, The Obesity Management Association found that those following a medical slimming programme lost 9% of their body weight in just 12 weeks. Research shows that constant support through doctor consultations is the most effective approach to weight loss and produces the best results.
JP's Story
"I lost 5 stone"
The medication worked like blinkers on a horse, it gave me a power I hadn't experienced in a long time, the power to walk past food and not be tempted. I could walk through a supermarket, past the bakery and not be drawn like a moth to the cakes. This small power gave me the driving force to take back control; I could now see a point in trying, and the advice that the doctor gave me helped me choose the right foods and take the right exercise
Michelle's Story
"I lost 3 stone 6 pounds"
My weight had gone down regularly and safely and still continues to do so. My wedding dress had to be taken in by 3 dress sizes! I reached my target weight by my target date! I have lost 5 inches off my waist, 4 inches off each thigh, 7 inches off my back and 4 inches off each arm! Its not really about the physical weight, it's about being able to throw away my size 18 clothes and fit comfortably into a size 12 (or squeeze into a 10).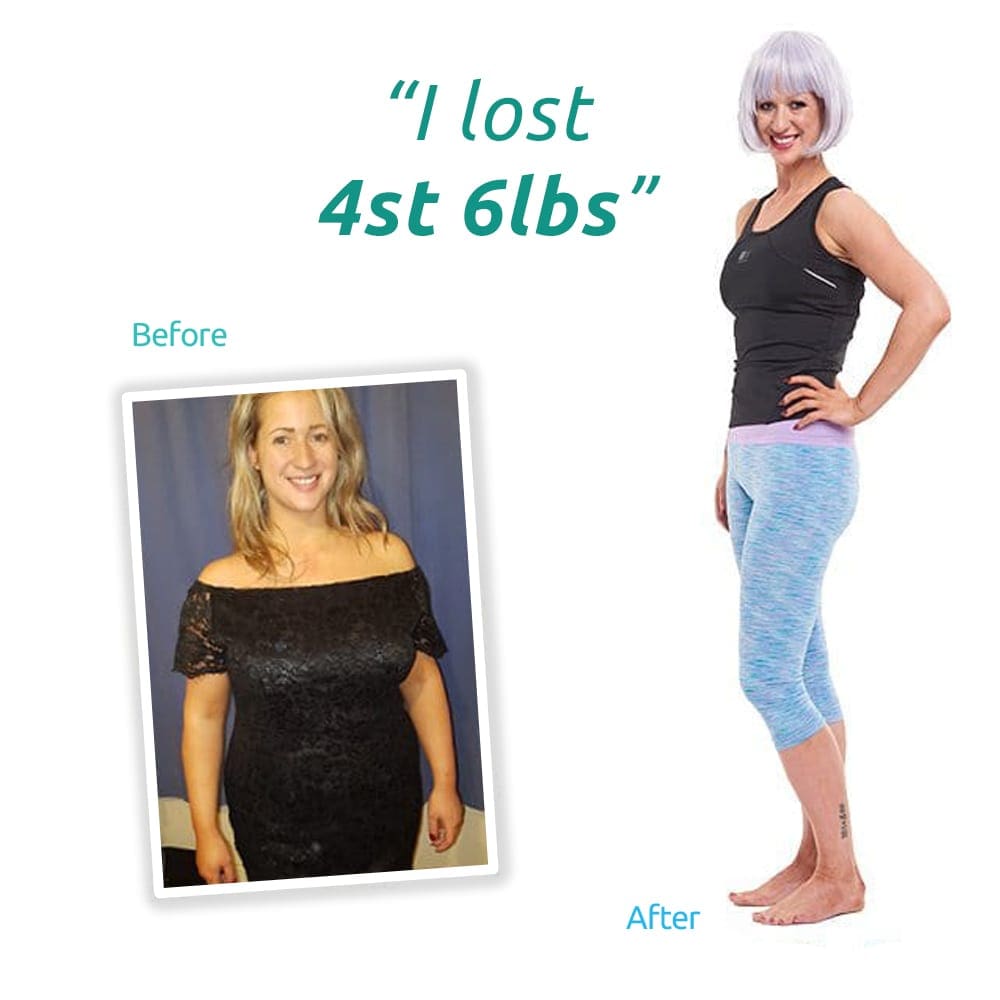 Kristina's Story
"I lost 4 stone 6 pounds"
"I no longer see food as my enemy like I used to, I no longer see it as a comfort either. The most important factor that made it possible for me to succeed throughout this journey was realizing that this was not a diet, not a quick fix, but a permanent change of lifestyle. It was realizing that I eat to live, not live to eat."
Our History
The Slimming Clinic has helped patients achieve their weight loss goals since 1984.
We have 22 clinics throughout England, Wales & Scotland and are proud to be the UK's largest group of private, medical slimming clinics. Our treatments include prescription medication, a weight loss programme to suit your goals and weekly support and weigh-ins.
We pride ourselves on the fact that we are considered to be one of the best clinics in our chosen field, providing slimming medical consultations to hundreds of thousands of patients every year.
*Please note individual results may vary & these results are not guaranteed.
Doctor Led Personal Weight Loss
34 successful years helping thousands of people lose weight
Start your journey!