Doctor-led,
Personalised
Weight Loss Programmes
From your first Initial Video Consultation at The Slimming Clinic, you will talk to one of our qualified, professional weight loss doctors.
They will take time with you in your initial video consultation to discuss your weight loss goals and lifestyle, to ensure we are able to design the best weight loss programme for you and your needs.
Book & Date and Time for your
50-minute
Initial Video Consultation with your doctor
or need to know more first?
Your online weight loss programmes can include:
Prescription medications, which are carefully and considerately chosen based on your needs and lifestyle.
Appointments with weight loss doctors and trained healthcare professionals.
Free access to our weight loss app and patient support pathways
Supportive weight loss supplements
Once you begin a medical weight loss programme with The Slimming Clinic, we recommend regular remote appointments with your doctor for support, encouragement and to keep a track of your progress.
In a survey of 947 patients, The Obesity Management Association found that those following a medical weight loss programme lost
9% of their body weight in just 12 weeks.
Research shows that constant support through doctor consultations is the most effective approach to weight loss and produces the best results.
History
The Slimming Clinic, previously the National Slimming and Cosmetic Clinic, has been helping thousands of people lose weight since 1984. There is no reason you couldn't be our latest success story!
Since March 2020, The Slimming Clinic has offered all our weight loss programmes remotely with our doctors over the phone and via video appointments and having treatments delivered to the doors of our patients by secure, reliable courier.
Our remote online weight loss programmes make losing weight with us easier and more convenient than ever and mean that you can speak to a medical professional 6 days a week, from Monday to Saturday, anywhere you are – home, work or even on holiday!
Find out more about how joining an online weight loss programme with The Slimming Clinic will be the start of a wonderful journey to weight loss and better health for you!
Find out how an Initial Video Consultation is just the beginning of your weight loss journey with The Slimming Clinic!
For an exclusive online booking fee of just £35, you get all of the following:
Comprehensive 50-minute online video consultation with your weight loss doctor – to help you find the best weight loss programme and benefits for you.
Immediate access to 14-days of exclusive weight loss advice, delivered in modules.

Our 14 days of weight loss advice have been devised and written by our weight loss experts in mindset, movement and diet and have all the tips and help they think you'll need to lose weight successfully.
Thorough health and weight loss video consultation with a weight loss doctor.

Spend quality time with a GMC-registered weight loss doctor via your video consultation.
Your doctor will take the time to get to know you and your goals for weight loss and health.
Taking your BMI, weight and blood pressure readings from you, they will discuss how our weight loss programmes will help you achieve your dreams for your wellbeing and weight loss.

Blood Pressure Monitor (where required)

You will need to do a blood pressure reading during your appointment. If you need a blood pressure monitor, we will deliver one to you, as part of your programme cost!

£50 refund*
When you join a 3-month weight loss programme with us after your Initial Video Consultation, you will get £50 REFUNDED off the cost of your online weight loss programme!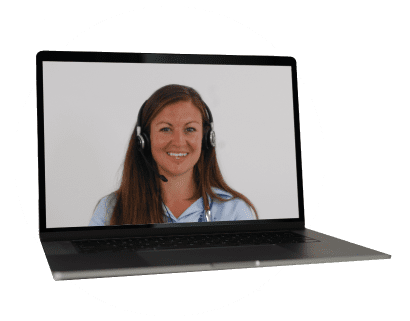 Need to know more?
Speak to a member of the team by booking a call back.