The end of the year is almost upon us and by now, most of us are probably busy planning the festive season and aren't thinking about our own wellbeing. 
When it comes to our health and weight loss diet, when December rolls around, most of us resign ourselves to the fact that we aren't going to be sticking to any diet and that it's better just to start again with a new year's resolution in January. 'New Year, New Me', anyone??
But, the 31 days in December are a long time to make a difference in your weight loss, positive or negative.
You wouldn't go off plan for a whole month any other time of the year, so why do it in December?
Those 31 days could be the difference between going into the New Year feeling amazing about yourself or feeling worse about yourself.
There is no doubt that December is a really challenging month to maintain a weight loss diet, let alone lose any weight, as there are so many disruptions to our schedules and delicious, high-calorie temptations all around us.
The cold weather can put us off activities and make us liable to hibernate on the sofa, when we know we should be out and moving more in the fresh winter air.
But how can we look after ourselves in December, so we don't completely ruin our weight loss and go into January full of remorse?
Make a plan!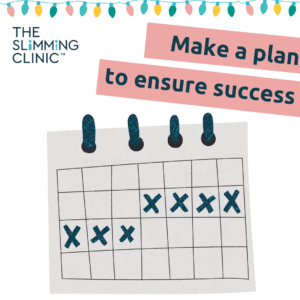 One of the best ways to tackle December and maintain or continue your hard-earned weight loss, is to create a plan.
Take a look at your diary for December – what social plans do you have that might impact your weight loss?
It could be some meals out, or drinks with friends?
Pop those events in your calendar and then, on the quieter days in the month, you know you can eat well and try to fit in some activity to help support your weight loss. 
By planning in when you are going to potentially over-indulge, it will make you more likely to stick to the days when you are planning to be healthy!
There are 31 days in December – that's 93 meals. If you can eat well for 80% of those meals – that is 75 meals on plan, healthy and your *still* get 18 meals off-plan. Eating well for 80% of the time might not see you losing weight, but it could certainly see you maintaining!
Keep the cupboards stocked
Make sure you have plenty of fresh, healthy foods in the house and don't be tempted to buy high-calorie Christmas treats when you're at the supermarket.
Limit the amounts of unhealthy things you buy when you're shopping, so you can't eat them in a moment of weakness!
But, it's important to remember that if you do have a moment of weakness not to beat yourself up about it and then allow a bad meal, to become a bad day, to become a bad week, to become a bad month.
Sneaking a mince pie here or there won't completely sabotage your weight loss or stop you reaching your goals, but it might just start a spiral of mindless eating.
Before you eat during December, look at what you are about to consume, particularly when it comes to snacks, and think 'Do I need to eat this?'
Being more focussed on what you eat, may help you cut down on unnecessary snacking and calories!
Enjoy yourself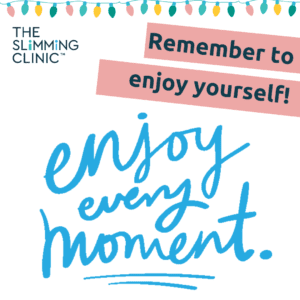 Remember, December is about striking the balance between not completely overindulging, but still being able to enjoy yourself.
It is about working to ensure you don't undo all your hard work, but also don't limit yourself so much that you feel you've missed out.
By maintaining your regime as much as possible over December of eating well and keeping up your activity levels, it means you don't need to 'start again' in January. In fact, if you can master your weight in December, think about how easy it will be to master the rest of your weight loss journey!
We know how hard December can be on your weight loss and health. With temptation all around in the form of food and drinks, it is really easy to over indulge and end the month feeling much heavier than we started it. 
If you want to keep your weight loss up in December and head into January feeling like you did your very best, book in your Initial Video Consultation today. 
For just £35 for a 50-minute consultation with a weight loss doctor, they can give you the best support and advice to see you through the coming months and help you reach your weight loss goals with the help of our weight loss programmes. 
Book in online below and start your journey now. 
Start your journey with a thorough Initial Video Consultation call. 
Speak with a GMC-registered doctor and start your journey today!