A recent survey undertaking by Nuffield Health has shown that nearly half of all women have done no vigorous exercise in the past 12 months.
With Britons advised to do at least 75 minutes of vigorous exercise a week, this means that an awful lot of us aren't getting the physical activity in we need, in order to lose weight and stay healthy.
An estimated 64% of adults in the UK are now overweight or obese, and doing exercise is really important for helping to reverse those figures, so if we are not keen on exercise, or it has been a while since we tried exercise, how can we get started?
Getting Started
The thought of exercise for weight loss can be a bit intimidating when you're first starting out on your weight loss journey but we're here to tell you, it doesn't have to be scary at all!
Knowing where to start is often the hardest part, so we at The Slimming Clinic have put together a 2-week exercise plan for weight loss – for beginners or those looking to get back into exercise!
It is sure to leave you feeling healthier, fitter and slimmer in just 14 days!
When you are just starting with weight loss exercise, there are lots of things you can try when you're finding your feet, but we wanted to feature just a few of our favourites for you to try over the next two weeks.
Scroll to the bottom to get your 2-week exercise plan for weight loss!
Walking
A great place to start! Something we do naturally every day, walking can be low or high intensity!
We recommend about 30 minutes of walking a day. This doesn't have to be all in one go – It can be spread out over the course of the day. If it gets your heart rate up and you sweating a little, even better!
Maybe park a little further from work and get 10 minutes in before and after and try squeezing a 10 minute walk in at lunch time. It all adds up!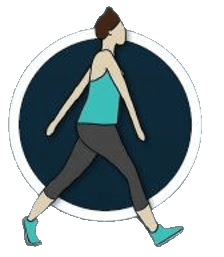 Yoga
Yoga is not just a great way to improve your flexibility, strength and posture, but a good way to burn fat and lose weight too.
There are some amazing beginners' workouts on YouTube, so why not grab a yoga mat and give it a go in your living room!
Body weight squats & lunges
If you want to get into toning but aren't sure how, squats and lunges are a good way to start.  For exercises such as squats and lunges, it's really important that you get your form right first, before adding in extra weights for challenge.
Try doing them in front of a mirror to check your form – it'll ensure if you add weights, you're less likely to injure yourself.
Small dumbbell exercises
Another great way to get into toning and weight loss exercise is to go low-weight dumbbell exercises. Some great beginner exercises are:
bicep curls
lateral raises
overhead press
If you don't have dumbbells, then grab a couple of cans of beans from the cupboard or fill some old water bottles with water and try with those!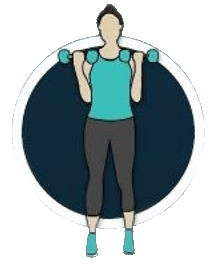 Swimming
Swimming is a great all-round activity and exercise for weight loss because it raises your heart rate but is low-impact, meaning it doesn't tend to exacerbate injuries (depending on where they are).
You get an all over body workout and it helps strengthen and tone!
Your 2-Week Exercise Plan for Weight Loss:
Remember these things when starting ANY weight loss exercise:
Start easy and if you have to, make sure you reduce the number of repetitions or time you spend exercising.
It's important that you start as a beginner, or at a level you feel you can achieve and maintain.
This plan is just an example of a workout program that you can follow for two weeks, but feel free to add in other types of activities that you love too!
When doing the exercises, select the correct footwear and ensure that you are hydrated and keep hydrated during and after your workout.
Don't forget to spend five minutes warming up and cooling down at the end of every exercise session too, to prevent injury and pain.
If you feel any pain when exercising, stop immediately and consult a doctor if your pain persists.
Please consult you doctor before starting any new exercise regime or increasing your activity levels.
If you want more support and help with movement, exercise and weight loss diet, start with an initial video consultation with The Slimming Clinic today. Now even easier to book, with our online book and pay feature!