You've lost bags of weight with The Slimming Clinic, you're looking amazing, and yours is one of those weight loss success stories that make everyone see that it's possible. The final piece of the puzzle is to show that off to the world!  The BEST way to do that is to take part in one of our amazing photoshoot days, and let everyone know that weight loss programs are effective. This is an awesome opportunity to show off your weight loss before and after!
Have you ever wanted to be a model for the day? Or do you want to take part in one of our photoshoot days but are a bit nervous? Ever wondered what happens at the shoot? Well, wonder no more! We are here to tell you exactly what to expect if you take part in one of our fantastic modelling days as you become part of our weight loss success stories and show off your weight loss before and after.
All you need to bring to a photoshoot with us is yourself, a few changes of outfits and your best, confident smile. We want to capture your weight loss before and after photos to help you let the whole world see how the journey has been.
 We can provide everything else
No expense is spared when it comes to modelling for us! Before coming to Bournemouth. We will subsidise you to have a spray tan at a salon of your choice. Then when you arrive with us on the photoshoot day, we will send you to have your hair and make up done by our trusted stylists to make sure you look and feel your absolute best.
All travel is also paid for, no matter where you're coming from in the country. At The Slimming Clinic, we will pay for planes, trains and automobiles to get you down to the sunny south coast.
Still not enough? We'll also keep you full-to-the-brim with snacks, food and Prosecco to help ease any nerves you might have on the day!
The photoshoot itself takes place in a beautiful old cinema with our photographer – who has shot every one of our modelling days since we began them, so you are in very safe hands. We want to celebrate your weight loss before and after story while making your modeling dream come true.
During the day you will have the opportunity to have your photos taken in the outfits you bring, as well as doing a short video about your weight loss journey. People want to hear weight loss success stories and you'll be amazed by how many lives you might change with and without your knowledge.  You'll also mingle with others who have been through the same weight loss journeys as you with The Slimming Clinic! Just like these guys who came along to our most recent photoshoot in May.
​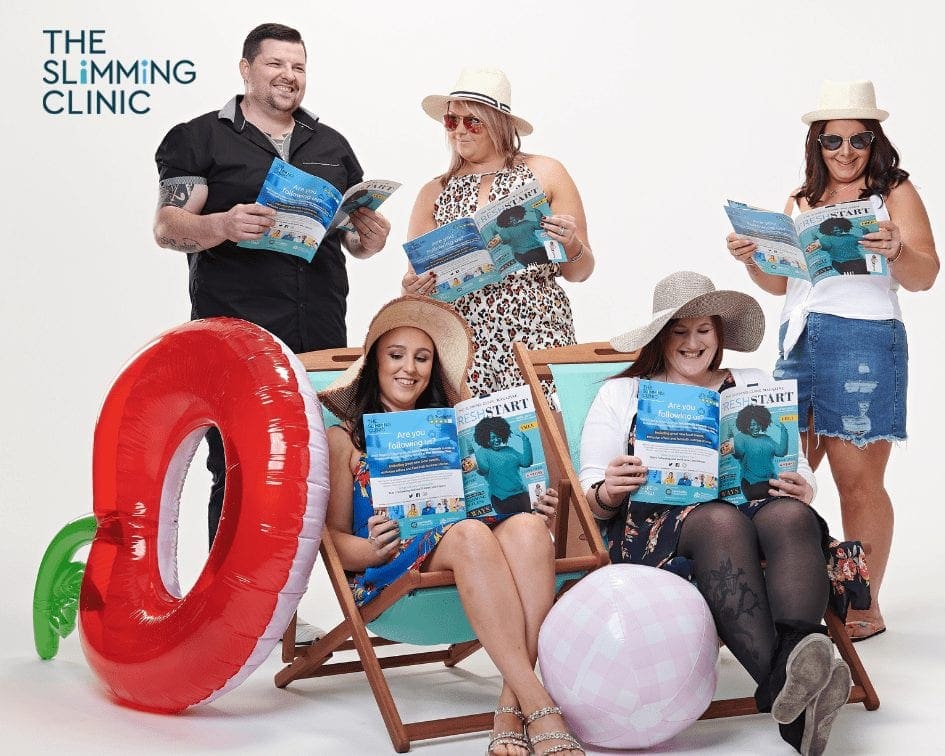 What have you got to lose?
We truly value everyone who takes part in our weight loss programs and we want to sing about your successes. You should be incredibly proud of the journey that you have been on to help improve your health, well-being and lifestyle. Yours and other weight loss success stories are what makes us keep going.
Our photoshoot days are a chance for you to show how much you have achieved and inspire others to do the same. Weight loss before and after photos, especially when done at the hands of an expert can provide true inspiration to people struggling with weight loss. At The Slimming Clinic weight loss program, one of our core values is that we want to help people look better, feel better and achieve their dreams and we can't do that without the testimonials that you share with us!
Don't miss out
If all this sounds like an opportunity that's too good to be missed and you're interested in attending one of our photoshoots and being an inspiration to thousands, keep your eyes peeled for information about future events. We can't wait to see your weight loss before and after photos! Also, if you are yet to begin your weight loss journey, it's not too late to join one of our weight loss programs at The Slimming Clinic. Book an appointment or give us a call through 0800 9179334 for a free weight loss consultation at and let us walk you through the journey.
We can't wait to meet you.