Jeanette Eriksson's story
Weight Lost: 5 Stone 13 Pounds*
My friend then suggested The Slimming Clinic to me as she also put on weight with having her children and she said she had used it before with great results. It has not all been easy, some weeks I lost nothing and some weeks have been great! Even though I have weeks where I don't lose anything, the staff always cheer me up and let me know how well I have done so far and maybe I have lost inches but not weight.*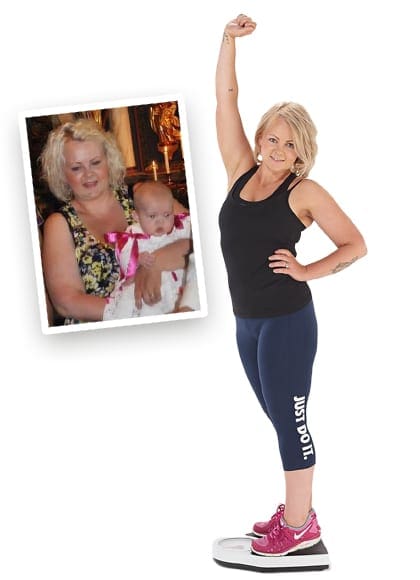 I was very skinny when I was little, as I hit my teens I started putting weight on but I looked healthy. In my twenties I started going to the gym and I got addicted! I could go as much as three times a day and if I wasn't at the gym I was out walking or on my bike. I lost a lot of weight and weighed at my lowest 43kg! I started to realise that this wasn't healthy for me and I stopped everything and went cold turkey and the weight started to creep on and the scales went up but I was happy with myself. After this I started going between 1-3 times a week to the gym which seemed to suit me and it kept my weight on a good level. However, then I got pregnant and I got very big as I was suffering with complications and was bedbound for the last two months as moving was impossible. When my daughter was born I weighed 99kg! It seemed that the harder I tried, the baby weight just would not shift! I was out walking every day and did classes three times a week. I lost about 10 kg but that's where it seemed to end. I would just stay at the same weight, not putting on but still loose nothing.
My friend then suggested The Slimming Clinic to me as she also put on weight with having her children and she said she had used it before with great results. It has not all been easy, some weeks I lost nothing and some weeks have been great! Even though I have weeks where I don't lose anything, the staff always cheer me up and let me know how well I have done so far and maybe I have lost inches but not weight. Now, I feel more like me and I know it's probably not something people like to talk about but I have got the passion back in my love life which I had lost for over a year after having my daughter due to my weight gain – I just felt too big to be loved or that he wouldn't find me attractive at all! Thank you The Slimming Clinic for letting me feel like myself again and allowing me to be able to be active with my daughter.
What was your starting weight and what are you now?
I started off at a whopping 99kg (15.6 stone) but now I am down to 66.4kg (10.5 stone) and still loosing.
What were your main downfalls?
My downfalls were wine, cheese, olives and salt liqourishe – I love them!
What are your three best dieting tips you'd like to share?
1. Keep active, rapid weight loss can be good but let your body get used to loosing weight and your skin will keep up.
2. Portion size is important.
3. Eat slowly and drink water with your meal.

What would you say to someone who wanted to lose a large amount of weight?
That you need to take your time, I have lost my weight gradually over 1.5 years. There is no point in starving yourself if you feel that you want to eat. Constantly drink water and have a little snack. I eat little and often – some days it's just your body telling you that you need that bit of extra energy. This often happens to me when I am expecting my period and it soon dies off as soon as it has started.
How do you deal with boredom in your dieting program?
I don't stick to a special diet but I do keep my wine to a Friday and Saturday evening only.
Have you developed any health complications from your weight gain?
I have developed carpal tunnel syndrome which seems to get better as I loose the weight.
Are there any foods that you completely avoid and never eat?
I stay away from fizzy drinks as I find you get a sweet tooth from them.
Doctor Led Personal Weight Loss
34 successful years helping thousands of people lose weight
Start your journey!