Weight Lost: 2 Stone 13 Pounds*
After my first week I lost 7lbs which I was over the moon with, the weight then continued to come off week after week. *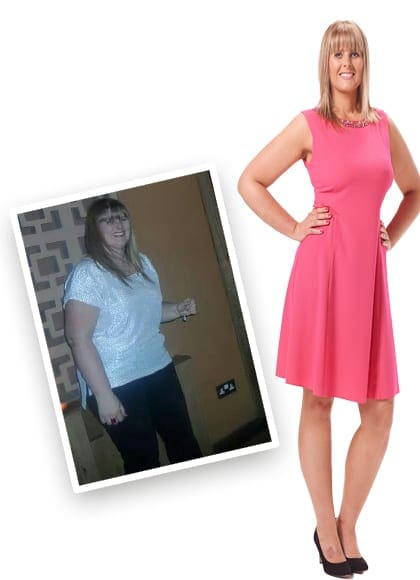 I have been on so many diets over the years and changed from one to another to another and so on. I lost weight and thought 'yay' but the weight seemed to pile back on and I was then back to square one. It got to the point that everything I wore looked horrible and I felt so unattractive. In August this year after loosing 1 stone 2lb on another weight loss programme I found myself bored, stuck in a rut and because I couldn't be bothered with the programme anymore, I was worried that the weight would start to go back on. My sister-in-law suggested I try The Slimming Clinic as she had been successful and lost a lot of weight on this programme. So although I was a bit apprehensive I thought that I would give it a go. I made an appointment at the clinic which my sister-in-law came along to with me for a bit of moral support. I was welcomed by a lovely, bubbly, friendly receptionist who made me feel very welcome straight away. I told her my concerns as I had never done this programme before but she reassured me and put my mind at ease. The doctor I saw for my first appointment asked me a lot of general questions about my health and then weighed me. The doctor explained the plan and made sure that I was happy before prescribing me the weight loss medication. I was so excited about the plan!!
After my first week I lost 7lbs which I was over the moon with, the weight then continued to come off week after week. I am still continuing with the plan but after 13 weeks I have lost 2 stone 13lbs and with the 1 stone 2 lb that I had lost before starting the programme, the 4 stone lighter me is very happy. I have another 8lb to go until I reach my target. I can truly say that The Slimming Clinic has changed my life for the better. I have a lot more confidence in what I am wearing now and actually enjoy shopping, probably a bit too much! My husband and children have noticed the change in me and are proud of me for loosing the weight. The staff at the clinic are very supportive and have helped me achieve what I have done so far. If there is anyone that is unsure about this plan then I would like to reassure them and tell them to go for it as I was told the same and can now say the results are brilliant!
Doctor Led Personal Weight Loss
34 successful years helping thousands of people lose weight
Start your journey!