Weight Lost: 3 Stone 9 Pounds*
My partner had used The Slimming Clinic before and recommended I gave it a go. I found the staff and doctors very friendly and totally non-judgemental, along with the tablets, they also gave me a lot of advice on diet and exercise. What really gave me willpower this time was the fact that I was seeing someone weekly and seeing the weight fall off so easily. And after just three months I have gone from a size 22 to a size 12, loosing 3 stone.*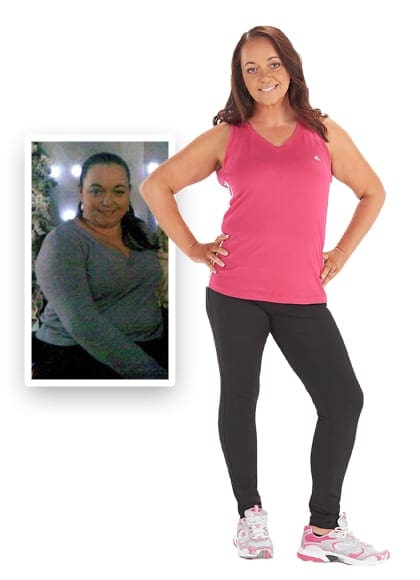 I have always been known as a yo-yo dieter and have probably tried almost every diet there is – even crazy ones like just eating cabbage but that wasn't pleasant for anyone within 5 feet of me! Two years ago, I managed to lose 3 stone within 6 months through eating healthily and regular visits to the gym. Then I fell pregnant, at first I kept to eating healthily, but no longer went to the gym. I was then diagnosed with SPD (Symphisis Pelvic Dysfunction) which is basically a misalignment of the pelvis causing severe pain and discomfort. I could hardly walk, my consultant said I had to be on bed rest for the last 3 months of my pregnancy and use crutches if I needed to get around. This was during the Summer, it was extremely hot and I became very comfortable with laying in bed and living on ice creams and chocolate bars because my bump was big I didn't notice how much weight I was putting on!
When my daughter was born, I found myself either still wearing maternity clothes or big baggy t-shirts. The first time I went to buy clothes I found myself having to buy size 20-22 and they were tight on me. I had no confidence in myself and hated going out because I didn't feel comfortable in anything I wore. I had totally lost my mojo. I realised I had to do something about this before I was going to get any bigger. My partner had used The Slimming Clinic before and recommended I gave it a go. I found the staff and doctors very friendly and totally non-judgemental, along with the tablets, they also gave me a lot of advice on diet and exercise. What really gave me willpower this time was the fact that I was seeing someone weekly and seeing the weight fall off so easily. And after just three months I have gone from a size 22 to a size 12, loosing 3 stone. I couldn't have done this without the help and support of the staff at the Portsmouth clinic. I still want to loose a few more pounds and I now have a very big reason to keep the weight off…..I'm getting married in July next year and have already bought my wedding dress in a size 10-12 so no way will the old me be making a reappearance. Thank you The Slimming Clinic Portsmouth for bringing my mojo back. Oh and also, just some advice – walking past an ex having lost all the weight that you put on being with them is THE BEST feeling in the world.
Doctor Led Personal Weight Loss
34 successful years helping thousands of people lose weight
Start your journey!