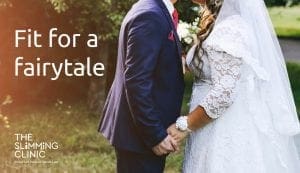 Wedding season is upon us again and whilst weddings are a wonderful chance to celebrate love and happiness, they're not always the easiest occasions if you are trying to stick to your healthy eating routine.
With alcohol, three course meals and buffets, it can be tricky avoiding those high calorie food and drinks that can throw you off track.
So if you're off to one, or maybe a few, nuptials this summer, we've got a few hints and tips on how to ensure your diet plan doesn't get flung in the air like a bridal bouquet.
Hydrate
Water is proven to speed up metabolism and makes you feel fuller. So before reaching for the canapes, drink a glass of water and see if you still feel hungry. Even if you don't feel completely full, it might mean you only have a few canapes instead of a whole plate!
Also try to make at least every other drink a glass of water or decaffeinated drink – this will slow down your alcohol consumption and help with consuming fewer 'empty calories'.
Moderate
Choose your wedding breakfast courses carefully and opt for the lower-calorie options, like chicken breast or fish, where possible. Be sure to look for dishes with veggies and try to avoid anything with a creamy or heavy sauce.
When it comes to the buffet, head for the chopped vegetables and fresh foods first. Load your plate with these items and try to steer clear of heavy cheeses or beige, stodgy foods that lack in nutrients and can leave you feeling bloated and sluggish.
If you want a slice of cake, don't deny yourself, simply practice your portion control and go for a smaller slice.
Invigorate
When the evening rolls around – get on the dancefloor and move like no-one is watching! Dancing is a fantastic way to get your activity up having sat through a ceremony and a long meal.
Moderate dancing burns roughly 7 calories a minute meaning 30 minutes on the floor bopping can shed about 210 calories – enough to counteract a large glass of wine.
Celebrate!
Finally, weddings are such happy occasions – make sure to enjoy yourself and have fun!