You've decided 2023 is your year for your health. You know you want to lose weight and improve your health and that this takes a weight loss diet.
But with SO many companies telling you that their weight loss diet is the best way to lose weight, how do you know who to choose?
We thought we would tell you why losing weight with The Slimming Clinic this year will be the easiest decision and could well be the best decision you've ever made for your health!
Experts in weight loss and health, our weight loss doctors are dedicated to not only helping you lose weight, but to helping with your health and weight-related conditions too.
We do not run classes delivered by people who have had a few days training in nutrition at a Head Office. We employ registered doctors and nurses who have spent many years training in medicine and health.
Our highly-skilled doctors know exactly what it takes to support you in your journey to being the healthiest, happiest you and will give you tailored advice in your 1-to-1 appointments with them, as your weight decreases and your health improves!

1-to-1 appointments ONLY
Every appointment we offer at The Slimming Clinic is offered on a 1-to-1 basis only. This means that you get the full attention of our weight loss doctors during your appointment!
There are no group appointments where your weight loss (or gains) are read out for the whole hall to hear. There is no need to be held accountable, or sometimes embarrassed, in front of a group of your peers.
There is simply you and your doctor, talking about your achievements, struggles and getting the support you need.
Lose weight from home
You also no longer even need to leave home to lose weight with us as all your weight loss appointments with us are conducted via telephone or video call.
More convenient than having to get the kids looked after to attend an appointment, or drive to your closest clinic, pay for parking or get to a cold village hall for a weigh-in! Your online weight loss programme means you have your appointment, and your treatments are delivered within 48 hours to your chosen address.
Weight Loss Treatments to Support Your Efforts
With our carefully prescribed weight loss treatments you are sure to get the right support for you.
Whether you choose to take prescription weight loss medication or our natural supportive supplements, you can work with our weight loss doctors to find the best course of treatment for you.
Working alongside your weight loss diet efforts, our medication helps curb those cravings and suppress your appetite so you can develop healthier habits and keep your weight off for good!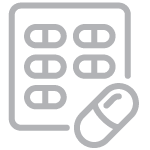 You can start for FREE
 Your first contact with us costs absolutely nothing. Nada. Not a penny. 
That's right, you can book a call back with our team for absolutely FREE to find out more information about how our weight loss programmes support you in reaching your weight loss goals, just so you can see if it is right for you before you begin!
So there you have it, 5 simple reasons as to why you should give us a go this year!
If you are looking to lose weight and you want the best, tailored weight loss support you can get, delivered by experts, book your FREE call back with our team now. 
You've really got nothing to lose – we're here, waiting to help you this year.