We know the feeling too well. It rolls around to October and you start thinking about Christmas.
You're planning your food, your presents, who you are spending the big day with and your Christmas parties.
But you've neglected your health all year and now you can't fit into any of the dresses or festive outfits in your wardrobe and you've haven't got the time or money to buy something new…!
But you want to look your best for the festive season. So what do you do? 
For a lot of us, we start a low-calorie, unrealistic weight loss diet that means you're starving and miserable for most of November and by the beginning of December, you've given up completely and you still don't fit in anything you want to wear!
Why not try something new this year?
This year, get help from The Slimming Clinic and our 8-Week Countdown To Christmas Weight Loss Guide!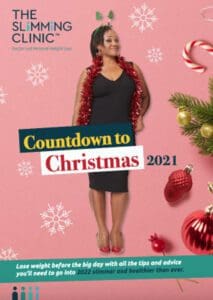 Why use our guide? 
Our Countdown To Christmas Weight Loss Guide is designed to support every aspect of your weight loss.
It doesn't set unsustainable, hard-to-follow weight loss goals, but keeps your weight loss simple, and, if you follow the advice and tips inside, over the next 8 weeks, you should see yourself healthier, happier and slimmer in time for Christmas day!
What is in the guide?
Inside your Countdown To Christmas Weight Loss Guide, you will get 8 weeks of advice and support written by weight loss experts and weight loss doctors.
Each week you will learn something new from our experts and doctors that you can add to your knowledge to help you lose weight and adopt a healthier lifestyle!
Week #1 – Back To Basics – Dieting
You'll get started with our no fuss, back to basics of how to eat well! Learn how to fill your plate with nutritious, healthy and delicious foods!
Week #2 – Movement Advice for Beginners
Think movement or activity isn't for everyone? Think again! Find out the easy way to add more activity to your day. You'll be pleasantly surprised how easy it is!
Week #3 – Unlock Your Weight Loss Mindset
Getting into the right headspace is one of the hardest parts of weight loss. Get your mindset in the right place to lose weight and keep it off for good!
Week #4 – How to Prep & 7-Day Meal Planner
Get your free 7-day meal planner in week 4 and learn how some simple prep, could be the key to your weight loss!
Week #5 – How to Lose Weight During Festive Celebrations
Simple, easy tips for when the festive season begins! Support your willpower and you will make it through the coming weeks!
Week #6 – Socialise & Slim
Christmas parties, dinners with friends, drinks flowing! Find out how you can keep the calories down when your social calendar is fuller than Santa's sleigh!
Week #7 – Festive Fitness
Incorporating movement into life is hard at the best of times, but even worse when it is cold and dark outside! Not with our excellent Festive Fitness tips in week 7!
Week #8 – Testimonial Top Tips
Our favourite top tips from people who have been successful on their weight loss journey. Find out what they think it takes to lose weight and reach your goals!
All of these incredible articles are joined by information on our weight loss medications, advice on how many calories you should eat, results from our LBD challenge that we set 6 slimmers and more detail on supportive, non-prescription weight loss supplements.
How can you get the guide?
That is the easy part – your guide is right here on The Slimming Clinic website and you can download it using the link at the bottom of this blog!
What are you waiting for?
You want to be slimmer and healthier for Christmas, so, what are you waiting for? Download your guide now and see what you can achieve!
Go, go, GO! (Or should that be Ho, Ho, Ho?!)
Want to start losing weight today?
Get your FREE Countdown to Christmas Weight Loss Guide HERE!
Follow its 8 weeks of advice and see yourself healthier and slimmer by the big day!