Name: Abigail Kirk
Age: 23
Occupation: Nursery Practitioner
Starting Date with The Slimming Clinic: March 2020
Starting Weight: 18st 10lbs
Current Weight: 12st
Current BMI: 26.3
Total Weight Loss to Date: 6st 10lbs
When Abigail Kirk decided to join The Slimming Clinic in March 2020, she weighed 18stone 10lbs. Abigail had previously lost an incredible 6 stone on a high street weight loss diet but found that her weight loss began to slow down and eventually came to a stop.
Abigail decided she needed more support on her journey to reach her target and today, 12 months later, thanks to her willpower and some support from The Slimming Clinic, Abigail weighs 12stone and, we think you'll agree, she looks absolutely fantastic!
Hear how her journey led her to The Slimming Clinic and her healthier, happier life.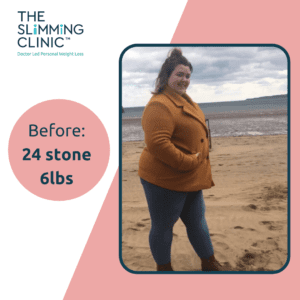 Photo showing Abigail before her weight loss diet.
Why did you make the decision to lose weight?
I have always been big, and it was making me very self-conscious on nights out with my friends. I wanted to feel confident and beautiful, and I didn't at my starting point of 24 stone.
As I work with children, it is a very active job and I wanted to be able to run around with them and have fun with the children in my care without getting out of breath in a short space of time!
How did you hear about The Slimming Clinic and why did you choose your weight loss journey with us?
My mum and aunt had told me about the Slimming Clinic and told me how well they had both done on the weight loss diet and weight loss medication The Slimming Clinic had prescribed to them.
After being on Slimming World for 10 months and losing 6 stone with them, my weight loss has completely stopped and I needed extra help to continue to lose weight, as I was still weighing nearly 19 stone.
Tell us about any previous attempts you have made to lose weight?
I started on a weight loss diet in January 2019 with a weight of 24st 6lbs.
After a year, I had successfully lost just over 6 stone in weight on their weight loss diet, but I got very frustrated as I couldn't seem to lose any more weight no matter how little or much I ate and despite how much exercise I was doing.
So, after recommendation, called The Slimming Clinic and decided to see what I could achieve with them!
The best thing I about my weight loss programme with The Slimming Clinic is the continued support I have received from the weight loss experts.
Due to COVID-19 I haven't been able to go into the clinic, but I have had a thorough remote monthly catch up with one of the doctors who have been really helpful.
What's even better is that my weight loss doctor is genuinely interested in how I am doing personally! It isn't just a money making scheme for them they genuinely care about their patients and their health and weight loss journey.
How did you find your regular, 1-to-1 appointments with the weight loss doctor?
My appointments with the weight loss doctor were really helpful.
Knowing that I had a remote consultation coming up helped me to stay on the right path, whereas if it was just me trying to do a weight loss diet on my own, I probably wouldn't have done as well as I have!
Was there anything you struggled with on your weight loss journey, and how did you overcome that?
I love cooking but because of the weight loss medication giving me appetite loss, I felt a little like I was missing out on one of my biggest hobbies and doing what makes me very happy.
However, I overcame this by cooking for my mum and boyfriend at home and baking for the staff at work to allow me to continue doing something I love – even though it was very hard to resist the home baked goodies!
What is the best thing about losing weight and what do you do now, that you didn't do before?
The best thing about losing weight is having so much more energy than I did before.
When I weighed more, I was very lethargic, and I struggled to get motivated to do anything active.
Now I will happily go on long walks with my boyfriend or go to the gym (when COVID-19 allows it) and having this extra energy and drive to be active has rubbed off on my loved ones, as they too have become more active with me!
What would you say to anyone thinking of joining a weight loss programme with The Slimming Clinic?
DO IT! You will not regret it!
The support you get from the weight loss experts is brilliant.
However, I would say to just make sure you are fully committed to your weight loss programme as it can be on the expensive side, but it is a healthy lifestyle change that does actually work and that speaks volumes and makes it completely worth the cost.
If you are ready to invest in your health and well-being, then get in contact with us.
We are open to speak to 6 days a week from Monday – Saturday and have a patient support team ready and waiting to help support you however you need!
Abigail has now lost 12 stone 6lbs and looks amazing!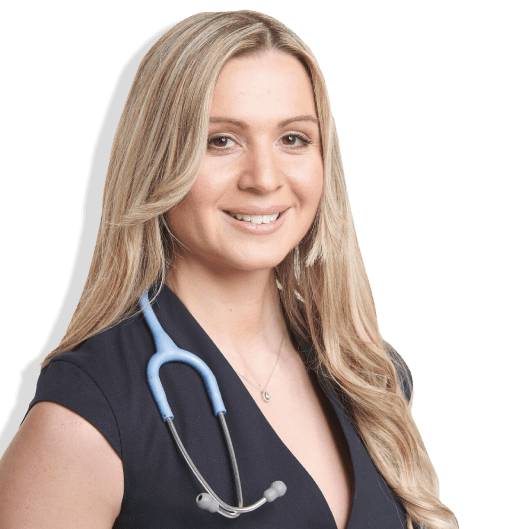 Become your own weight loss transformation. 
Contact us to find out how we can support you on you way!